Bank Holiday Narrowboat Rides! Monday May 27th
Enjoy a narrowboat ride on The Grantham Canal this coming Monday!  11am – 4pm
Refreshments served on board
Adults:  Only £2.00  Children: 1.00
All trips depart from Harlaxton Wharf, The Drift, between Harlaxton and Barrowby. NG32 1AE
The Grantham Canal Information Stand will be at the wharf, where Volunteers will be on hand to answer any questions you may have about the canal.
Guide books to the canal will be on sale – save on postage costs!
Interested in becoming a member, or doing volunteering work for the canal?  Come and talk to us – you'll be surprised at the wonderfully varied work available!  Never again, will you be wondering what to do in your spare time!
Discovery Day!

October 13th this year – put it in your diaries!  It may seem a long way off, but the Events Team are already thinking about it – and have been since last year's Discovery Day!
 We've already got a few things lined up – The Melstrum Ukulele Orchestra will entertain you whilst you indulge on homemade cake and lashings of tea!  Narrowboat trips! The Lincolnshire Bat Group – I hope they can bring along some of their flying mice!  We shall have to ask them.  Sustrans will be with us again, with loads of advice about cycling in the area.  And it wouldn't be Discovery Day, without the now legendary 'Dirty Duck Race'. 
Meet  Quackers – our very own duckathlete – already in training for the big day – Ay Up Me Duck, his personal trainer was overheard to say " he can do a full length of the kitchen sink now, without getting out of breath.  He'll be a force to be reckoned with on the day, and has already booked his place on the podium."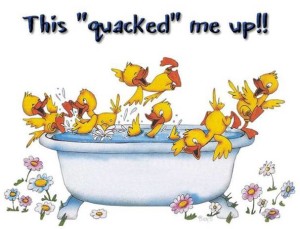 If you're an organisation, which fits nicely with the canal – even tenuous links will be considered, and would like to take advantage of our offer of free stand space – contact Tony:  anthonykjackson@btopenworld.com

  

Tel: 01476 567477
 Keep looking in for updates!
CRUISE THE GRANTHAM CANAL!
The Three Shires Narrowboat, has now stared her cruising season, and is available now to charter throughout the summer until October.
Book a trip to celebrate a birthday, or anniversary perhaps?  We serve hot and cold drinks on board – why not supplement this with your own food hamper and a bottle of your favourite tipple, for that special occasion?
But, you don't need a special occasion to enjoy the pleasures of this wonderful canal from the water.  A cruise on the Grantham Canal is special enough!
A wide range of groups have enjoyed a trip on The Three Shires – see the Boat Trips section of this website to find out how to book a cruise for your group, and to discuss your requirements – we look forward to welcoming you on board!
……………………….
I think it's fair to say, the Easter Monday event went extremely well (see below).
Nearly all boat trips were full, some people, sadly were not able to be accommodated, such was the level of interest.  I'm sure we'll organise more 'turn up & ride' events in the future.  Watch this website and local press for details – of course, if we had more willing volunteers – we could put on more events.  Details of how to become a canal volunteer, can be found on this site – a warm welcome awaits!
A big thank you to all those who turned out, on, it has to be said, a rather chilly day!  All proceeds will go towards the restoration and maintenance of the canal.
EASTER MONDAY APRIL 1st
Experience a narrowboat ride on the Grantham Canal – for £2.00…£1.00 if you're a child!  If the weather is a bit chilly – the boat is even heated for your comfort!  Seats are allocated on first come first served basis.
Location:  Harlaxton Wharf, The Drift, between Harlaxton & Barrowby. NG32 1AE
Boat rides start at 11am, through to 4pm
Food for thought whilst you're enjoying your cruise:  It was in the month of April, in 1797, that Thomas Lockwood, Boat Builder of Hickling, carried the very first cargo on the Grantham Canal – this was a shipment of coal to Grantham.  Such a momentous occasion was this, that he was allowed to do so toll free.
GRANTHAM MUSEUM EVENT
The Events Team had a busy three days at the museum – despite the snow doing its utmost to put some people off!  This proved to be a very worthwhile event for us – meeting so many interested people.
The museum are keen to have us back – so we obviously behaved ourselves!
Don't forget to call in to the museum, to view our semi-permanent display cabinets.  The museum is open Thursday – Saturday, 10am-4pm.
WE NEED YOUR HELP
- Grantham Canal Society – invite you to join us at our three day event at Grantham Museum March 21st – 23rd inclusive. 10.00am – 4.00pm each day.
Refreshments available.
Pop in, to discover the exciting things happening with your canal, meet some of our volunteers, enquire about the many aspects of this wonderful waterway, and learn of our short and long term plans for this historic canal.
WE NEED YOUR HELP!
We have an urgent deadline to meet. As part of our application from the Heritage Lottery Fund, we must carry out a public survey – it's not too arduous on your part – but it is on ours!
We need as many members of the public as possible, to give their views in the survey.
Click on the link to complete on line – or visit us at Grantham Museum, for a paper copy. We look forward to meeting you!
The Grantham Canal Society is a Registered Charity, and is a purely volunteer organisation.
Our volunteers don't get paid – they're PRICELESS!
….
Although the frantic activity of last summer has at last eased up and we in the events team have been trying to catch our breath, especially after such fantastic efforts put into the Discovery Day. £1000 was a brilliant result! Lots of fun and some new members to swell the ranks too.