Lime Kiln ~ Cropwell Bishop
The Lime Kiln Inn,
Kinoulton Road,
Cropwell Bishop,
Nottinghamshire
Tel 01949 81540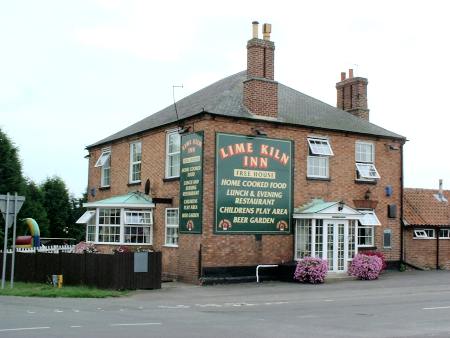 The Lime Kiln Inn at Cropwell Bishop qualifies for inclusion by being at the cross-roads on Kinoulton Road well within staggering distance of a restored Grantham Canal! It was built in 1843; partly as a coaching inn for travellers on the nearby Fosse Way and partly to serve those working at the nearby lime kilns – from which the pub gets its' name.
Paying a Sunday Lunch visit to this most hospitable of hostelries I chatted to licencee John Stanley who, along with business partner Richard Bull, has run the pub for six years. And it's hard to imagine now that for eighteen months prior to that the "Lime Kiln Inn" had been closed-down due to lack of trade. "I'd previously run a busy pub in Nottingham City Centre" says John " and decided to take on this quiet and remote pub as a way of semi-retiring. We cleaned up, repaired and redecorated the place, and added a conservatory, but otherwise didn't change it much. But when it reopened we did decide to offer lunchtime and evening food seven days a week." Sure enough, John and Richard's dreams of an easy life evaporated as punters began to flock to their pub from miles around (their fresh fish dishes have become legendary!) ensuring they never have a quiet moment. They welcome children in their back rooms and in their spacious pub garden which has a veritable menagerie for all to enjoy. The only blot on their copybook for real ale fans is that they no longer serve any hand-pulled beers. "We used to" says John "but a few years back they began blasting gypsum across the road. The vibration shook the casks and made all the real ales cloudy!" Now the explosions are over John can foresee real beer back at the bar in readiness for the first boaters calling in;-
"It'll be great to see the Grantham Canal here full of water again – along with the boat crews visiting and all the other leisure activities it'll bring to the area". And just let me confirm, for the food alone, the "Lime Kiln Inn" is already well worth a visit.