The Nevile Arms ~ Kinoulton
The Nevile Arms,
Owthorpe Lane,
Kinoulton,
Nottinghamshire
Tel 01949 81236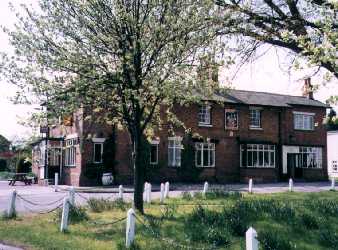 Imagine – in just a couple of years from now, the joy of cruising your craft along a restored Grantham Canal, through a quiet cutting, and mooring for the night by the newly raised road bridge in the tranquil Nottinghamshire village of Kinoulton. A short scramble up the embankment takes you on to the main street of the hamlet, still very much alive and kicking. The 1,700 residents boast a cricket team, a thriving village hall, a local school, the best stocked store/off-licence/post office you wish to find and, of course, The Nevile Arms.
It's in the traditional pub mould, with interior walls still intact and fixtures and fittings which look as though they ought to be there. It has a large, spacious lounge bar and a busy public bar serving real ales, and a games room with pool, darts and skittles. Food is served every lunchtime and Monday to Saturday evenings, in a separate area overlooking the pretty beer garden.
Current landlord and landlady, John and Christine Brooks have looked after the pub for nine and a half years now and say that the building used to be a farmhouse with a cowshed and a piggery at the rear. It became an inn in 1835 and got it's name because the daughter of the 4th Earl of Gainsborough (whose estate included Kinoulton) married Christopher Nevile of Wellingore. At the turn of the century the estate was sold to Nottingham solicitor Jesse Hind, who also bought the pub in 1928 and renamed it "The Hind Arms". After much petitioning by disgruntled villagers, however, the pub finally got it's original name back during World War 2.
They've got used to the Nevile Arms ghost – a tall, thin man wearing a demob suit! – who haunts the premises……but one friend refuses to stay over and a former cleaner left screaming in fright, never to be seen again!
Christina is very much in favour of restoring the canal, and even fancies a boat herself. As for the passing trade it will bring – well, we'll probably be looking for other types of spirits in the bar!