BUY A BRICK

This campaign is extremely important in enabling us to honour our commitment in raising almost £100,000 in Matched Funding towards the Heritage Lottery Fund supported:

Grantham Canal Heritage Initiative
(Restoring the Woolsthorpe Flight)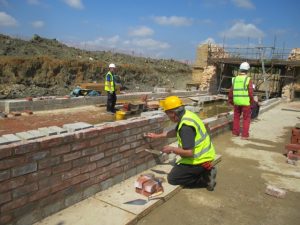 Our volunteers continue to work every day Monday to Friday throughout this five year project to restore Locks 12 to 15

There are two ways you can support
Buy A Brick

1. Simply click the 'Buy A Brick' link below to make a donation.  Each £1 donated will buy a brick for the project.
2. For a larger donation, you have the option of a brick engraved with an inscription of your choice.  This will be built into a canalside feature for posterity.
Engraved Brick Scheme
In partnership with the Canal and River Trust, the Grantham Canal Society is working to restore the remaining four unrestored locks in the Woolsthorpe Flight.
As many as 36,000 new bricks may be needed to restore Locks 12 to 15.

To replenish funds already used and, to purchase more bricks to enable us to continue rebuilding the locks – we're asking for your support!

A minimum donation of £25 (£75 for commercial organisations) will fund bricks for the restoration.
In recognition of your donation, the Grantham Canal Society will provide a brick engraved with an inscription of your choice.  Engraved bricks will form part of a canalside feature. 
Given this is a five year project, it may be some months before bricks are installed.

The donation minimums quoted are just that – your generosity will speed up the work
Forms do need to be printed and posted, along with your cheque
If you wish to pay by card, click the link below giving your details.  This will enable our treasurer to associate the posted form with your payment
Thank you
Guarantee
GCS guarantees to all donors that:
All monies donated pursuant to this Buy A Brick scheme, less the cost of engraved bricks, will go directly to GCS and be used to buy bricks for use in the restoration of Locks 14 and 15 primarily and thereafter the canal generally

GCS will use all reasonable endeavours to procure and display engraved bricks requested by donors in a location at or near to Locks 14 and/or 15
Terms and Conditions
All bricks (including engraved bricks) remain the sole property of GCS until incorporated into the canal structure when ownership passes to The Canal & River Trust

GCS reserves the right to approve the wording of all engraved brick requests and to refuse any application without giving any reason

The timing, location, siting, design and construction of the display of engraved bricks is at the sole discretion of GCS

Subject to the construction timetable and the design constraints for the project they will be displayed in such a manner as to be visible to users of the canal and towpath in the vicinity of the project.

GCS accepts no liability for fair wear and tear or damage to or deterioration of engraved bricks.
Thank you – we do appreciate your support!