Support the Society
We value your support!
The Grantham Canal is a wonderful local amenity.  It also attracts visitors from all over the UK and abroad – only realising a fraction of its full potential at present.

Our aim is to open the canal to full navigation, connecting Grantham once again to over 2000 miles of inland navigable waterways.
Not only will this provide economic benefits to the town and surrounding district, it will enhance the ecology of the canal and its environs throughout the Vale of Belvoir.  The canal is also a very important element of our industrial heritage.
With a supportive Canal and River Trust – The Grantham Canal Society is the engine which drives the restoration.

a purely volunteer organisation – every penny raised benefits the canal
Some recent achievements
Major rebuild of Lock 15 (GCHI Project)

Major rebuild of Lock 14 (GCHI Project)

Re establish the Woolsthorpe Depot slipway

The purchase and renovation of a dredger 'Mudlark' and Working-Flat 'Earwig' both totalling approx £6,000

The purchase of weed cutting boat 'Otter'


The purchase and installation of top & bottom gates for Woolsthorpe Top Lock (18), totalling approx £57,000

Working with our partners, the Canal and River Trust on the Heritage Lottery funded 'Grantham Canal Heritage Initiative' (GCHI) – restoring the Woolsthorpe Flight

Continued training for volunteers in the many aspects of our work


Our annual Discovery Day is now firmly on the waterway's events calendar



Some past achievements
Raising of Casthorpe Road Bridge

Raising Casthorpe Bridle Bridge

Converting Harby Town Bridge to a Lift bridge

Restoring locks 16, 17 & 18

Restoring Hickling Basin

Installing 3x steel swing bridges near Hickling

Restoring locks 6 & 7 at Cotgrave

Purchase of The Three Shires trip boat

Removal of the Woolsthorpe railway embankment

Rebuild of Muston Bridge

Rebuild of Harlaxton Bridge
We may not have done all of this work with our own hands, but it's happened under our watch.  We've campaigned, we've negotiated, we've rolled our sleeves up; but one things for certain:
It would not have happened without the Grantham Canal Society – and we could not have done any of this without your support and generosity

Thank you!
You can be assured that, almost every minute of every day (and often half the night), someone is working for the cause!

Your membership supports our hard working volunteers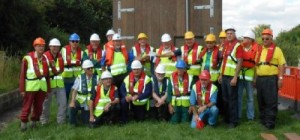 with the support of the community – we can get this job done!