Volunteering
Volunteer with us!
Without the Grantham Canal Society – this canal would not be with us today – a sobering thought?
The society, along with other groups were instrumental in preventing the British Waterway's Board from abandoning the canal altogether, with the inevitable result in it being filled in…
It is the Grantham Canal Society which drives this restoration forward – without our input – it will not happen.  It's worth reflecting on this when considering volunteering some of your time.
People have a variety of reasons for volunteering, they might recognise the important role the canal plays in the ecology of the area, the valuable amenity it offers for all to enjoy the outdoors or preserving our heritage.  You may wish to play your part in getting Grantham connected, once again, to the inland waterway's network – bringing colour, vibrancy and economic benefits to the town and surrounding district.  
Many of our volunteers simply enjoy getting together with a wonderful group of like minded people – in the knowledge they're doing something worthwhile!
Within the Grantham Canal Society a number of teams are actively working to bring the canal back to active life.
Thank you to Peter RALi Studios for this volunteers film – enjoy finding out about the many and varied ways in which you can help restore this fabulous waterway!

This video was made possible with the support of the Heritage Lottery Fund
Since this video was produced, some volunteer roles have changed.

Workparty
They're a great bunch, and a warm welcome is guaranteed!  They do a wide variety of jobs, and yes, this often involves travelling along the canal in their 1934 vintage narrowboat!  The purpose of these boat rides (so they tell us) is keeping the navigation clear of debris, trimming trees etc.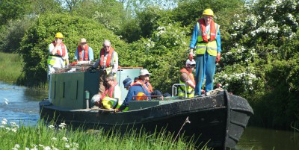 Their work also includes grass cutting, painting, bricklaying, mechanical engineering, tidying, marquee/gazebo erecting & more – the skills many of us already have – but on a larger scale!
Training is available for those interested in working machinery – dumpers, diggers, chainsaws, boat operations etc.
Major Projects Team
Lock restoration/rebuilding plus other projects such as slipway building etc.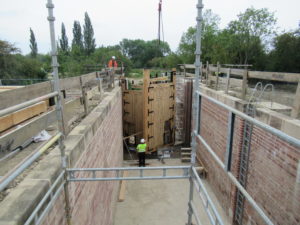 To find out more about volunteering:
Email: volunteer@granthamcanal.org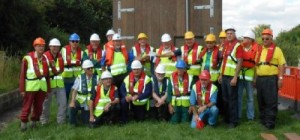 Publicity,  Community and Events

This is an important element of the Grantham Canal Society.
We may work our socks off – but if the public aren't aware of what we do, and all that has been achieved (23% of this canal is already restored), then there is a perception that no one's doing anything!
Publicity takes on many forms, from writing and sending out press releases, feature writing, radio interviews, talks & presentations, social media, website updates, organising events – to attending shows with the society's Information Stand.  Don't worry if you feel you don't have the knowledge to engage with the public at shows – none of us did when we started – we won't leave you alone with the stand!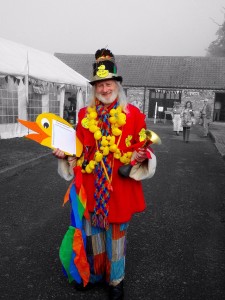 Some people take fund raising too seriously – or not!  This is 'Ayup Meduck', who puts on the seriously whacky 'Dirty Duck Race' each year at our Discovery Day!  We need lots of helpers for Discovery Day, and on the lead up to it – dressing up is optional!
The Learning Team
This is largely, but not entirely, made up of ex education professionals.  They  reach out to schools and community groups, mainly along the canal corridor.
The work of the team includes giving powerpoint presentations and canal dipping activities to the preparation and disseminating of information.
Crew our trip boat 'The Three Shires'
Enjoy the Grantham Canal from the water by volunteering to skipper or crew "The Three Shires".  Our skippers are trained in safe boat operation.
If you enjoy engaging with the public – then becoming a crew member could be ideal for you!  During cruises, you will serve our customers hot and cold drinks, and assist the skipper as required.
We operate charters for families, mixed groups, schools, office outings and birthday parties for a relaxing cruise through a beautiful stretch of the Lincolnshire countryside on the edge of the Vale of Belvoir.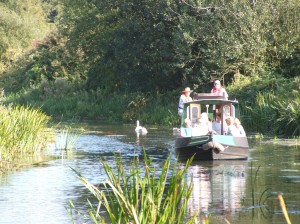 Grantham Canal Rangers
The Grantham Canal Society seeks to develop a wide sense of community involvement and ownership of the canal.  This is vital for its future development.
Rangers duties are ideal for those who like to walk or cycle the towpath.  As a Ranger, you will be supplied with our full range of information leaflets to give out to interested people.  You'll engage them in conversation and tell them about all which is happening regarding the ongoing restoration – and of course, listen to their concerns. 
Rangers have a reporting structure in place, to enable them to relay any information back to the Head Ranger.
The Grantham Canal Rangers play an important role in maintaining this valuable recreational and conservation asset, by providing a local voluntary presence along the full length of the canal – don't worry, we won't expect you to do it all!  You'll be allocated a section of canal to suit yourself – why not share it with a friend?

Rangers will also help in initiating contacts with local communities – they are supported in this by the Learning Team.
Being a Grantham Canal Ranger is a great way to enjoy the canal, adding purpose to your walks or cycle rides.  It can be fitted in at almost anytime, to suit other commitments.  There are no fixed hours – do what you can when you can!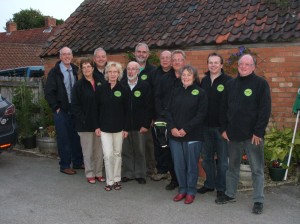 Management and Administration
A project the size of the Grantham Canal Restoration needs to be well managed and led by people with vision and commitment.  Can you help with:
Sales and Marketing

Membership Recruitment

Administration

Civil Engineering and Draughtsmanship

Legal, Environmental and Political advice

Ecology
If you have the time, experience, imagination and commitment to help lead and manage this iconic project you are very welcome to join us.
Donating your time is a great way to support us and have fun at the same time. Every hour you can spare will help restore the Grantham Canal.
To find out more: volunteer@granthamcanal.org
Mix and Match!  There's absolutely no reason why you can't help out in more than one team! Many of us do!

We look forward to welcoming you!