Casthorpe Bridges
A Tale of two (significant) Bridges
Once upon a time there were two lovely bridges.  One, number 63, Casthorpe Horse Bridge, was a narrow, beautifully arched bridge built of mellow Woolsthorpe brick.  At some time, someone knocked it down – and put an ugly concrete slab of a bridge in its place.
Its bigger cousin, number 64, Casthorpe Road Bridge, unable to escape, suffered the same fate.
And so, the movers and shakers in the canal society, after twenty years of dogged determination and a good deal of negotiation about its future navigation – threw their hats in the air, and were probably rather stunned – when authorisation was given to start restoration!
Fortunately for us, Casthorpe Road Bridge – was about to 'life expire', and few would mourn its passing.  This meant that Lincolnshire County Council needed to spend quite a bit of money on it – not, however, quite enough to build a new bridge of navigable height.
Roger Cook, Chairman of the Society and his team in the early 1990s, set about persuading LCC, that if the shortfall in funding could be raised – may we have a proper bridge please?
The cost of a new bridge of necessary height was £335,000.  South Kesteven District Council offered £50,000 and £75,000 came from a Derelict Land Grant, a forward thinking LCC funding the remainder.
However, with that amount of funding from the public purse, the canal society had to show that the opening of the canal was a real possibility – not just a pipe dream!
…and show 'em we did!  Casthorpe Bridle Bridge was raised and locks 16, 17 & 18 restored!  Funding from the Derelict land Grant, again helping with locks 16 &17.  We had a lot of help of course: The Waterway Recovery Group, IWA, Trainline (a government scheme for the unemployed), British Waterways, local farmers, and many, many hours of our own volunteer labour.
The new bridle bridge was opened in August 1993, amongst great celebration – the very first bridge to be raised on the Grantham Canal since the destruction began in the 1940s!
In May 1994, the prestigious National Trailboat Rally was held on this stretch of water – with the old low level Casthorpe Road Bridge removed in the nick of time, to allow the 18 pioneering boats to enjoy 5 miles of this delightful waterway!
The new road bridge was opened on 3rd of June 1995 – the very first road bridge to be raised!  British Waterway's Regional manager, Ian White, said 'This is the most difficult road bridge to replace on the whole Grantham Canal.  If we can do this one, we can do any of them'.
It was fitting that the opening ceremony was carried out by Mike Atherley of the canal society – a stalwart campaigner of the canal for 25 years!
………….20 years on, this stretch of waterway has a purpose built trip boat, allowing many people to enjoy this, one of Britain's most beautiful canals!
The canal society's vintage working narrowboat regularly works up and down the canal, with its volunteer workforce, keeping the navigation clear.
A dredger and 'working flat' make up the fleet of boats permanently occupying this top section of the canal – or 'summit pound' in canal speak.

School parties make good use of the canal here, by regularly using it for canoeing, incorporating it as part of their studies.
Just a taster of what is to come – as more and more of this canal is restored – looking forward to the day when Grantham is once again connected to over 2000 miles of national inland waterway's network!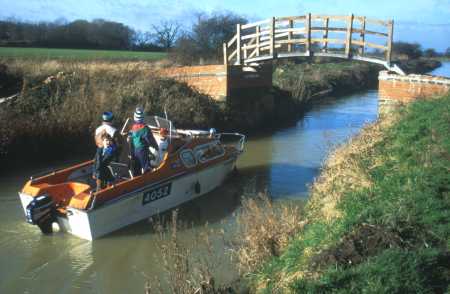 Casthorpe Bridle Bridge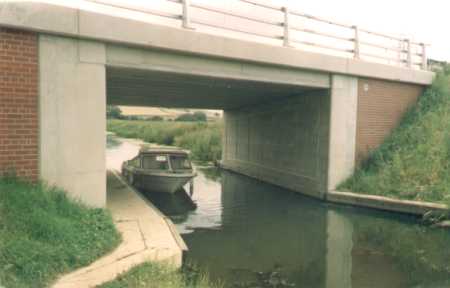 Casthorpe Road Bridge now has ample headroom