Co-op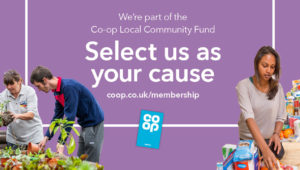 We've been chosen 🙂 
Until October 2022 
As one of the Co-op's local good causes!
Already a Co-op member?
Go straight to our profile page and select us:
Not a member yet? Become a Co-op member here:
Once joined, if you don't find us within the 15 mile radius mentioned by clicking the 'Mental wellbeing', return to this page and click the link at the top – taking you directly to our Co-op charity page.
The Co-op will donate to us 1p for every £1 spent on qualifying items.
The funding year runs from 24 October 2021 to 22 October 2022.
This initiative applies to the Co-op Group which are referred to as Co-op Food Stores, having a grey and turquoise blue livery.