Situations Vacant
Situations Vacant
Having served the society for a number of years, some of our key officers are about to retire – for the second time in their careers!
It is important we fill these roles, so that the excellent work in returning 'our' canal to full navigation can continue apace.
General Manager
This post would suit someone with proven management skills – running a medium/large company perhaps.  The work will involve day-to-day management of the society and attending meetings with stakeholders.
Company Secretary
Ideally, a legal background would be advantageous for this post.  It involves advising the society in charity, company and civil law, ensuring we are compliant.
Public Relations/Marketing
As with any business, this is an important aspect of the society.  This post will include the issuing of press releases, advertising events and coordinating social media.  Help in designing posters/fliers would be advantageous, but not essential.
Volunteer Coordinator
Another vital position within the society as it continues to grow. The role involves welcoming new volunteers, initial induction and helping find a role in which they are suited.  The post will include record keeping, for which knowledge of spreadsheets and general IT skills would be advantageous.
Update: 24/01/17
We are pleased to welcome Christina, whom, along with support from Alison and Sharon, will be taking on the vital role. 
Social Secretary
With our noses to the grindstone, this is an area which tends to be overlooked within the society at present.  If you're a people person and, wish to organise an occasional get together – fundraising event perhaps?  We would be pleased to hear from you!
~~~~~
With a supportive Canal and River Trust (owners of the canal), we are very much in a new era of optimism.  We need to grasp this opportunity and forward the restoration of the Grantham Canal – recognised as one of the most beautiful in the country.
To find out more about any of these key positions, please contact Mike Stone, Chairman: chairman@granthamcanal.org
Please note: All positions within the society are volunteer roles.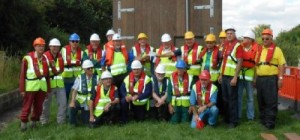 our dedicated and skilled volunteer workforce require an equally skilled and dedicated management team!